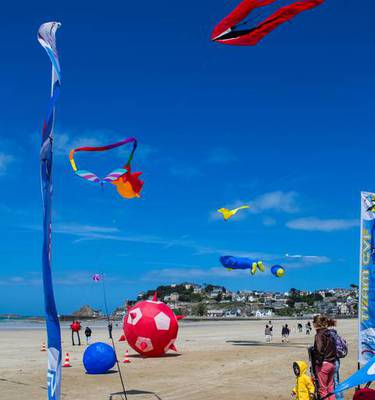 Here, events take place all year round: for food lovers & gastronomes, History enthusiasts, sports fans... There's always something going on!
In springtime, sports fans can take part in the Landes and Bruyères nature trail across the Grand Site Cap d'Erquy Cap Fréhel. This trail is a real challenge for runners! They come from all over France to weave their way across the kilometres of tracks of this future Grand Site de France. Cap d'Erquy and Cap Fréhel headlands become the playground for sports enthusiasts and walkers for a weekend. Get your running shoes ready, the race is on every year!
In summer, come discover our musical events such as festivals and concerts. Jazz lovers or rock n'roll connoisseur, everyone will find a piece of music to their taste. Numerous sports events are also organized, such as the Triathlon du Val André or the Beach-Volley competition les Estivales. After a sportive day, what's better than a wondrous outdoor feast in the medieval streets of Lamballe ? Come and savour the taste of delicious local products with the sound of Breton music in the background at the Régalades ! Every two years the village of Moncontour celebrates Middle-ages with its colorful festival : Knights and damsels invade its streets and invite you to a whirlwind of history... And believe us, here, History is alive !
Autumn and winter are also filled with occasions to have fun : Enjoy a horse related festival, Mille Sabots in Lamballe, or visit our Christmas markets for a refill of sweet Christmas spirit before the end of the year.
Slider en pleine page - 4 colonnesPlaylistCarré
Nom de la fiche :
Fête de la Coquille Saint-Jacques à Erquy [sheet--2222337]
Nom de la fiche :
Landes et Bruyères, Cap d'Erquy - Cap Fréhel - 2020 [sheet--2222354]
TéléphoneClassement (Hébergements)TypeAvisRéservationDescriptionPrix0