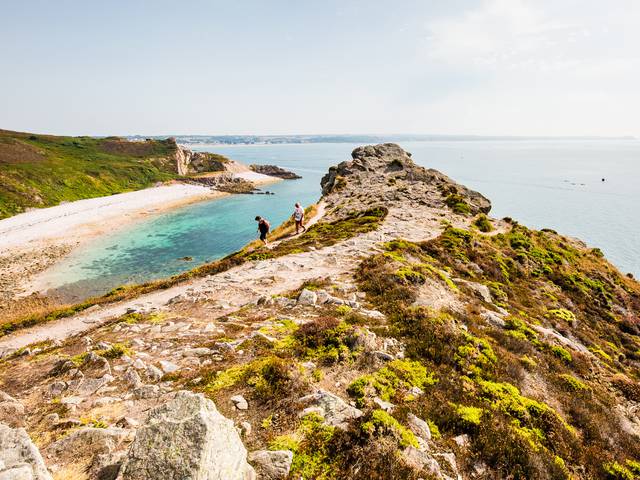 On 29 October 1959, Goscinny launched the magazine PILOTE with Charlier and Uderzo.
The first-ever comic strip devoted to the adventures of Asterix the Gaul and his companion Obelix was published in the first issue of this comics magazine (the album itself was then published in 1961 and sold some 6,000 copies).
23 albums were then released until 1977 when René Goscinny died. Albert Uderzo pursued the route thereinafter alone and, now in the first part of this new millennium, over 280 million albums of the adventures of Asterix have been sold ...
What's the link between Asterix and Erquy?
If you've ever read an Asterix album then you're surely aware of this famous flyleaf where the village of the indomitable Gauls is placed on a map of Gaul zoomed by a gigantic magnifying glass. What if this village was actually... Erquy?
Several facts perfectly illustrate the likeness between Asterix's Gaul village and the site of Erquy (the three rocks, the quarries, the history of the place, etc.)

During an interview, Albert Uderzo specified that he hadn't chosen Erquy deliberately as Asterix's village, but he did however admit that he had been deeply inspired by the Côtes d'Armor coastline.
Moreover, he knew Erquy and its region really well as he had found refuge there with his brother during the Second World War to escape the Compulsory Work Service (STO). After the war period, he and his family frequently spent their holidays in Erquy.


He was also incredibly impressed by the stunning scenery and in particular by Cap d'Erquy headland and its three rocks, illustrated on the flyleaf of the albums.
Last but not least, he states that the beaches close to the headland are recognizable in the album "The Mansions of the Gods", published in 1971.
In his last album "Asterix and Obelix All at Sea", the illustrator also made allusion to Tu-es-Roc, the former hamlet where many fishermen lived. Obelix, as we know, is also an excellent menhir sculptor and owns his own quarry: in the 19th and 20th centuries Erquy was at the cutting-edge of the extraction of pink sandstone, known as pink granite, a stone which was so renowned that it now paves certain streets in Paris and London!

The region was occupied by the Romans. During the Iron Age, Erquy was a Gaul dwelling place dominated by a Roman army camp on the headland. This rocky point is also what is known as a "promontory fort" or fortified headland: nowadays, the mound and ditch fortifying the headland, excavated in the 1960s, are still visible.
In 1979, the domestic thermal baths of a Roman-Gaul villa (around 185 CE) were discovered on the road which leads to quai Barrier (Sables-d'Or-les-Pins). Finally, in 2018, excavations undertaken by INRAP (French National Institute for Preventive Archaeological Research) uncovered Gaul structure under the houses of the current-day village.