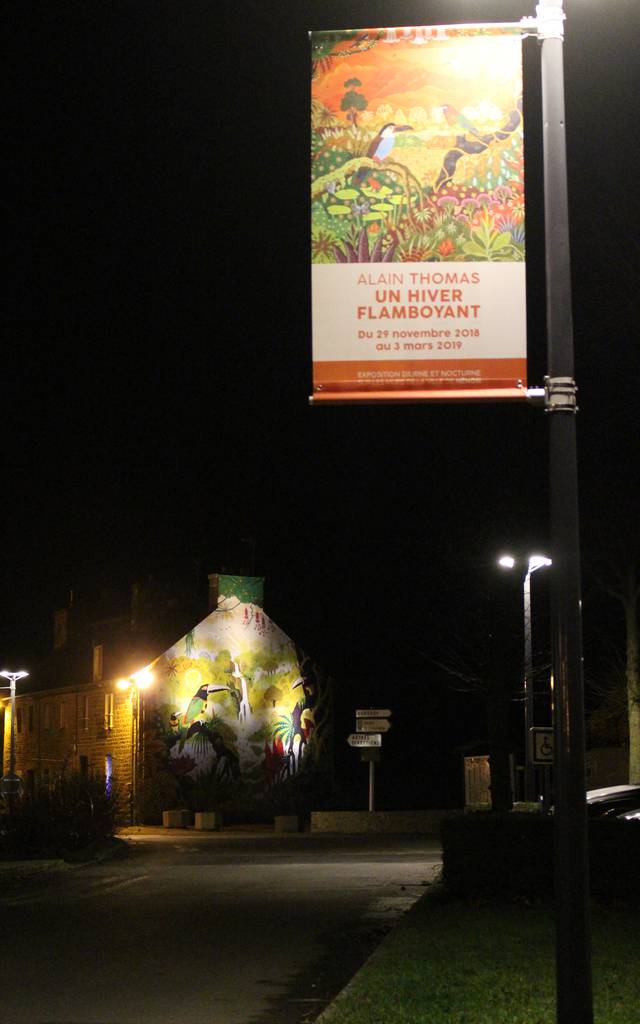 Exotic flora and fauna have taken over Hénon, near Moncontour in Brittany!
These are the works of Alain Thomas, an artist from Nantes accustomed to events, which bring flamboyant colors to the quiet little town. You can admire around forty large reproductions on the exterior walls of the church, and a huge format on the gable of a house in the town: impressive! My favorite paintings are those with pandas (cute) and red flamingos (yes, red! Smaller than the pink ones and living in South America); there are also macaws, cranes, panthers ... or even scenes from Russia and the Orient, but which appeal less to me.
In addition, we can play "Where's Waldo?" Going from one painting to another: the artist had fun putting a green lizard, a scarab and a magpie in each work in addition to his signature. Well, personally I have not found the three little beasts on all the paintings, where jungle and colorful flowers abound already! But I have until March to come and review the expo and try to find them! And as a bonus, they gave me leaflet about the walks around Hénon, Moncontour and Quessoy.
Slider - 3 colonnesPlaylist
Nom de la fiche :
Exposition Alain Thomas "Un hiver Flamboyant" à Hénon [sheet--2100397]
TéléphoneClassement (Hébergements)TypeAvisRéservationDescriptionPrix