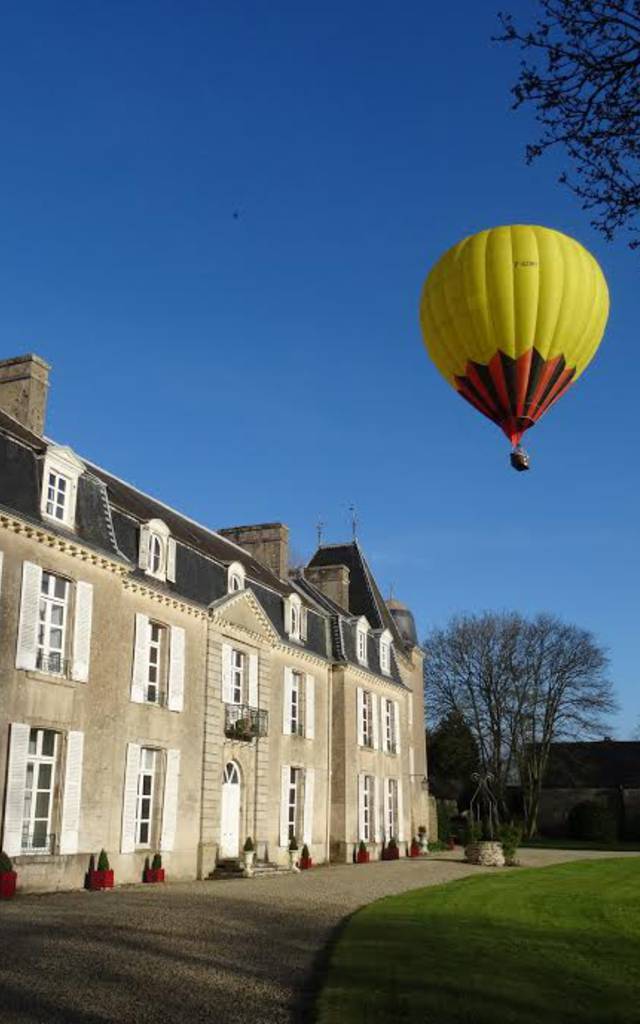 An unusual activity in Moncontour
Three hours of total immersion in the amazing and enchanting world of hot air ballooning ...
I used to visit the Moncontour region on foot, but this morning I chose the balloon flight. It's quite an adventure for me. This day begins at the Château de Bogard in Quessoy, with a warm welcome from Eric and the members of Cavok & Co who found a magnificent setting in this campaign which I will soon be flying over. Eric gives me some safety instructions.
Before you can take off, you have to check the weather conditions. Everything is OK, the balloon can go out. The association cars enter the field. The volunteers get out and start to spread out the various elements of the hot air balloon in front of the vehicles. The burners and the fan are on, the fabric of the balloon is raised to let the hot air in.
Little by little I see the canvas come to life and straighten up towards the sky. It's with some impatience that I wait for the moment to get into the basket. Everything is ready ! The ground crew helps me get on. The gondola first takes off a few centimeters and stabilizes. Suddenly we leave the mainland for a destination that is still unknown to me. The winds will decide for us. For an hour, the landscapes that I thought I knew revealed themselves before my eyes. A breathtaking view!. It's already time to land.
Little by little we descend ... The vehicles following us have just caught up with us and after having folded and stored everything, it is by car that we meet at the castle to take a drink, but also to discuss the feelings felt during the flight. It's decided that next year I will try again at the end of the day!
Classique - 3 colonnesPlaylistCarré
Nom de la fiche :
Air Nature Ballons [sheet--1608535]
TéléphoneClassement (Hébergements)TypeAvisRéservationDescription