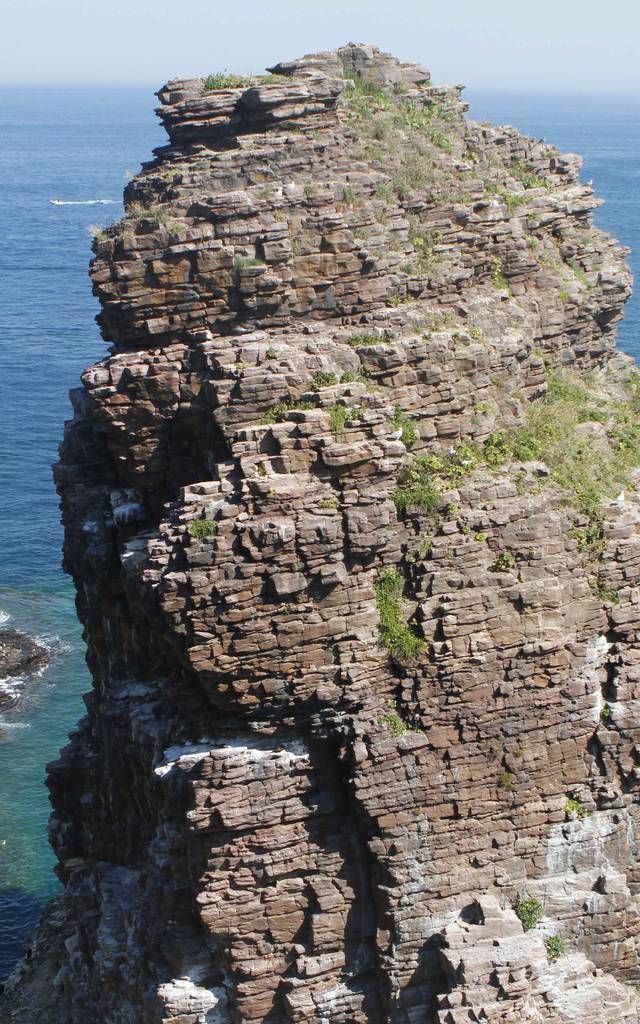 Along the coast and at the foot of 70 meters pink sandstone cliffs between Cap d'Erquy and Cap Fréhel is a unique viewpoint.
The headlands are a bird sanctuary, extraordinary in its diversity.
It's time to go to Erquy! Near the fishing port, "L'oiseau du Cap" is waiting for us. I sit on the deck, breathe deeply and believe for a moment that I'm going to go on an adventure. Already, the maneuver in the harbour gives me a different vision of the landscape, we weave among the fishing boats, and move away from the pier. Bye-bye to the white and red lighthouse of Erquy, and off we go for the next 2 hours and a half!
The landscapes seen from the sea are spectacular in Brittany. Past the Cap d'Erquy, we've got a breathtaking view of the wild beaches and the pink sandstone cliffs as we approach the islet Saint-Michel. We could be tempted to disembark, but already we see the Cap Frehel... and the promise of other discoveries.
The boat stops for a little while there, next to the ornithological reserve: there are even penguins here! Fortunately, the sailor-guide helps us to locate them on this "wall" of stone where they laid their nests. The crew describes and comments live what unfolds before our eyes: the discovery sea side is also rich in information about the history between the seaside resorts, the local economic activities, the geology ... it is more than a simple sea trip!
Under the Fort-La-Latte, we take our time to take a picture of this incredible stone fortress overlooking the sea.
Then, the speed, the air whipping my face, I breathe deeply, looking towards the horizon, what a pleasure! And in a second we are back to Erquy Bay. Sometimes we even meet dolphins here!
Classique - 3 colonnesPlaylistCarré
Nom de la fiche :
Armor Navigation [sheet--1608501]
TéléphoneClassement (Hébergements)TypeAvisRéservationDescription